Welcome to the Show of Shows!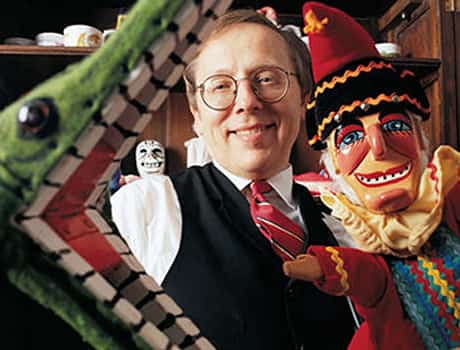 A Unique Act Featuring Puppetry, Conjuring and Splendid Amusements
If you live in Maryland, Washington, D.C., or the Mid-Atlantic region and need a comedy children's puppet / magic show, your search is over. Here at last is a fun-filled attraction that truly captures the wonder and pure imagination of childhood.
Founded in 1897, Horn's Punch & Judy Show is America's oldest and most unique children's entertainment experience. Now in its third generation, Professor Horn continues this legacy with his clever comedy conjuring, novelty routines and his laugh-out-loud funny British Punch & Judy puppet show.
Perfect for Kids' Parties and Family Audience Events
Professor Horn's celebrated Punch & Judy Show is known to incite gales of laughter from audiences of all ages. Whereas youngsters adore the amazing feats of legerdemain, slapstick comedy and variety entertainments, parents can't resist the nostalgic excitement this quintessential attraction conjures up from their own childhoods.
This must-see show is ideal for:
Book Professor Horn Today
To schedule your event, just call 410-638-6114 or email
info@hornspunch.com
.